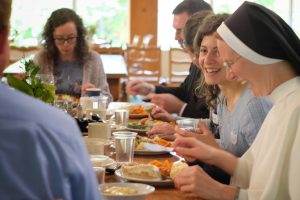 "Go into all the world and preach the gospel to the whole creation." 1
The Evangelium Project was launched in 2008 to provide an essential resource for young adults to attain a deeper knowledge of our Catholic faith. The teaching of the faith needs to communicate authentic Catholic truth in an effective and inspiring ways. The Evangelium project was founded by Fr Marcus Holden of the Archdiocese of Southwark and Fr. Andrew Pinsent of the diocese of Arundel and Brighton they preceded to organize an annual weekend conference in Kent. Some young Irish adults attended the Evangelium conference there and were inspired to start something similar in Ireland. The first annual Evangelium Ireland conference was held in July 2014 in St Patricks College, Maynooth, under the spiritual direction of Fr David Marsden. In 2018 Fr Marsden on returning to the UK entrusted Evangelium to Fr Damien Lynch from the Cloyne Diocese. After a brief hiatus in 2018 to facilitate the Pope's visit for the World Meeting of Families Evangelium Ireland was relaunched under the guidance of Father Damien Lynch as a one day conference In All Hallows Campus Drumcondra. The committee includes young enthusiastic Catholics all under the age of thirty passionate about living and spreading our faith.
The main activity of the Evangelium project is to run an annual conference, each summer for ages 18-40, bringing together excellent speakers from inside and outside the Irish catholic church, showcasing the breadth and depth of the wisdom and beauty of our Catholic faith, in order to support young adults to grow in wisdom and understanding. We are dedicated to building a foundation to spread the Good News to all, Evangelium hopes to galvanize the faithful and once again to reignite the missionary zeal Ireland was once renowned for.
The Evangelium Project hopes…. 
 To arm young Catholics with knowledge about their faith
 To provide a forum for lively discussion and engagement and enquiry
 To foster a vibrant young Irish Catholic community from all over Ireland
 To pass on tools for Evangelisation to the next generation
 To stimulate deeper thinking about what it is to be Catholic
 Evangelium seeks to be a platform to inspire and encourage the next generation of Catholic priests, religious, husbands and wives who will help to rebuild and reignite the faith in Ireland.
Check out the promotional video for Evangelium which was filmed at the 2015 conference here .
---